Hawaii State Judiciary donates law books to Lahaina Public Library
MauiTime Magazine
November 8, 2016
By Suzanne Kayian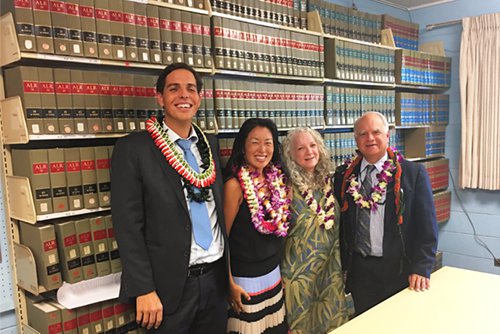 Pictured above (from right to left) is Joseph Cardoza, Chief Judge of the Second Judicial Circuit; Madeleine Buchanon, Lahaina Public Library Branch Manager; Jenny Silbiger, State Law Librarian; and Lance Collins, Attorney for North Beach West Maui Benefit Fund celebrating a grassroots effort that will benefit the West Maui community. Photo courtesy Hawaii State Judiciary.
The Hawaii State Judiciary recently donated legal resources to the Hawaii State Public Library System in an effort to increase access to justice.
A collection of American Law Reports (ALR) and ALR Digest from the Third Circuit Court in Kona were donated to the Lahaina Public Library, with financial and technical assistance from the North Beach West Maui Benefit Fund.
This collection of law books will supplement Lahaina Public Library's current legal holdings–which includes the Hawaii Revised Statutes, the Maui County Code, recent editions of the Hawaii Sessions Laws, and the Proceedings of the Charter Commissions of Maui–to allow residents to learn more about the law and conduct further legal research.
"I'm so happy that the Hawaii State Public Library System continues to foster a partnership with the Judiciary to make legal resources available to the public," said Jenny Silbiger, State Law Librarian at the Supreme Court Law Library. "When we needed to make space for the Kona Self Help Center in our Kona law library, we were excited to hear that that Lahaina was interested in the collection. We appreciate the support from North Beach West Maui Fund for kindly shipping the resources between islands. It is a win-win for everyone."
In 2015, the Judiciary, HSPLS, and the Legal Aid Society of Hawaii (Legal Aid) partnered to make self-help interactive court forms available online. Twenty-three of the most frequently used civil legal forms are now available online, accompanied by state-of-the-art software developed by Legal Aid. This software takes users through a step-by-step question and answer process to help complete the forms easily and correctly. For those who do not own a personal computer or have Internet access, the Hawaii State Public Library System provides access to these "A2J" (Access to Justice) self-help forms at locations statewide. For more information, please visit the "Access to Justice" tab Hawaii State Judiciary's website or LawHelp.org/hi.
"One of the greatest challenges to equal justice today is the lack of effective access to our civil justice system," said Chief Judge of the Second Circuit, Joseph Cardoza. "People who have low or even moderate incomes cannot afford to hire an attorney to represent them in their civil legal cases. As a result, every year in Hawaii, thousands of people must represent themselves in our civil courts and try to navigate a system that is foreign to the average layperson. For this reason, the Judiciary has continued to pursue projects and programs that make Hawaii's courts more accessible. We are so grateful to the Hawaii State Public Library System for collaborating with us on this mission and helping us improve our reach."
http://mauitime.com/news/law-enforcement/hawaii-state-judiciary-donates-law-books-to-lahaina-public-library/
---

North Beach West Maui Benefit Fund, Inc.

P O BOX 11329
LAHAINA, Hawaii 96761